Foil Faced Doors
PVC door foils are a type of PVC foil used to cover wooden doors. Standard PVC foils are not used for covering doors. PVC door foils are specially produced to cover the door surface. In this way, a foil-faced door is produced.
There are many PVC door foil models of Anka Dekor. They all have different colors and designs. Anka Dekor can design new products at the request of its customers and offer those products to your liking. You can see many different designs on the website as Concept and Horizontal Patterns under PVC door foil. This type of PVC foil is made following the latest fashion. At the same time, these foils have different reliefs. Embossed models can be made if you want, and if you want flat floors, the models without embossing are also available in Anka Dekor.
You can see PVC door foil models below.
How to manufacture foil-faced doors?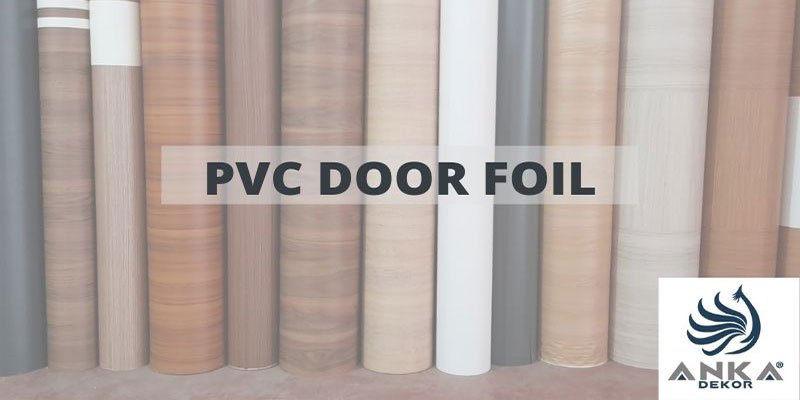 The application of Anka Dekor's door foil is quite simple. The area where the door foil will be made is first processed in a single-sided MDF lam CNC machine, and the desired design is cut in the desired dimensions. Then, the impact and burr marks left by the milling cutters on the model applied to the surface are smoothed with sandpaper. The better the sandpaper, the better the quality of the door foil. After the sanding is finished, Phoneix brand glue is used to apply PVC membrane glue to the surface and then the drying process is started. For the material not to breathe, good adhesion and moisture insulation must be provided.
After the glue dries, the heating process is carried out and the preparation phase comes to an end. Then, the doors are arranged by the press and Anka Dekor PVC Foil is laid on it. Not getting air is one of the most important conditions. This process takes exactly 7 minutes. After all the processes are finished, the excess parts of our door foil, which is adhered with the press, are cut off and the heated covers are left to cool. After cooling, it is packaged by making it immaculate and set out for delivery to our customers. Anka Dekor, which works with such care and diligence, receives the return of its service from the satisfaction of its customers.
After all these processes the foil-faced doors are manufactured.
What is the difference between PVC foil and PVC Door Foil?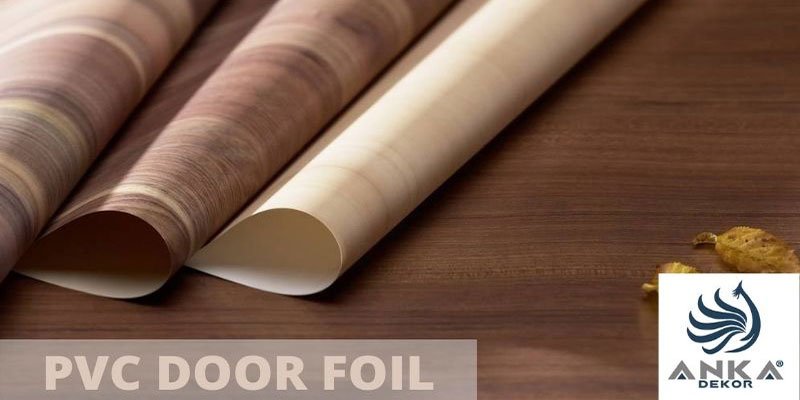 The most important feature that distinguishes PVC door foils from standard PVC foils is that they have a higher quality and besides that, they create a rigid and stable image. PVC foils, which were mostly preferred in modern and avant-garde style decorations in the past, are one indispensable parts of modern style decoration today.
High resistance to water and humidity
Outstanding dimensional stability
Excellent machinability
2-layer
Cost-effective high-quality film
As Anka Dekor, we have been manufacturing very high-quality products for our long years in the sector and we deliver these products to you at affordable prices. In addition, we are proud of fulfilling our 100% customer satisfaction target to date.
What are the Advantages of PVC-Faced Door?
PVC – polyvinyl chloride is one of the most important insulation materials on the market. In addition to being a very durable, long-lasting, and efficient product, PVC foil is budget-friendly. PVC is a product that does not harm human health. Therefore, it is often used for PVC doors, PVC windows, and PVC furniture.
In addition, since PVC doors are produced using CNC machines, their design is made perfectly. PVC door foils have adhered to wooden doors in such a way that there is no deformation. At this stage, PVC membrane press glue is used. With this glue, PVC foils adhere very well to the door and have a quality appearance.
Well just because of that? Of course not, here are the advantages of PVC Doors;
Low Cost, Budget-Friendly
PVC doors are products with low production costs. Therefore, it is much cheaper than, for example, lacquered or laminated doors.
Provides Thermal Insulation
PVC doors are highly resistant to weather conditions. It is insulated against heat in summer and cold in winter. Therefore, it is often preferred.
PVC doors provide sound insulation. Especially people living in big cities complain about the noise in the city. Therefore, PVC foils are frequently used as insulation material indoors in new buildings.
PVC doors have no maintenance cost. Because it is very durable and does not fade over time. So you don't need to spend an extra cost.
Resistant to impacts and abrasions.
PVC coating products have the durability of the PVC main material. Therefore, PVC doors are very resistant to abrasions and impacts.
100% recyclable, sustainable product.
PVC is an environmentally friendly product. It does not contain any toxic chemicals in its structure. Therefore, it appears as an ecological and environmentally friendly product.
There are different color alternatives.
It is very easy for people who will buy PVC doors to find PVC doors in different colors. The most suitable PVC-coated doors for your home decoration are offered to you by the best door manufacturers.
Foil-Faced Door Examples